Profimex Market Review Update – April 13, 2021
13.4.2021
Amazon has converted as many as 25 malls into distribution Centers
Even prior to the Covid-19 pandemic, Amazon was purchasing failed malls and converting them to warehouses or distributions centers. Between 2016 and 2019, NBC News estimates that Amazon converted 25 malls to fulfillment centers. Due to the rise in demand for ecommerce over the past year, Amazon has purchased additional failing shopping malls at an accelerated pace. In July 2020, Amazon began speaking to Simon Group, one of the largest retail owners in the US, to convert additional malls into distribution centers. CBRE recently released a report stating that transaction volume for the industrial market grew by 20% to 350m square feet and that warehouse floor capacity will remain limited and expensive over the next few years.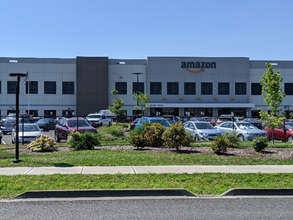 (Read)
Mall vacancies jump at fastest pace on record, hitting new high, as retailers cull store counts
According to Moody's Analytics, the vacancy rate for shopping malls in the US hit a record high at 11.4% during Q1 2021. This is a 90 basis-point increase from the previous quarter (10.5%), the largest spike on record according to Moody's. There are about 1,000 malls in the US of which Moody's tracks about 700. Victor Calanog, lead of the commercial real estate economics division within Moody's, explained that "Malls are absolutely still on the ropes. They were on the ropes even before Covid…It's almost passe now to say that we have a record vacancy rate for malls because we've been breaking that record all year." This large spike in vacancies for shopping malls has been due to Americans spending more time shopping online. This pattern was accelerated during Covid-19. Although other real estate sectors, such as multifamily, have begun to recover from the impact of Covid-19, retail has remained pressured.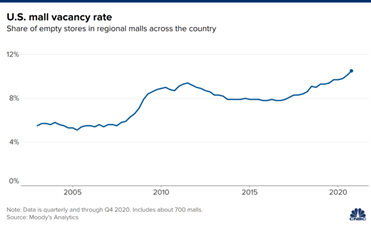 (Read)