Profimex Market Review Update – September 29, 2020
29.9.2020
Data Center Industry To Start Ramping Up After Pandemic Hiatus
With millions of Americans working at home due to COVID-19, demand for more and larger capacity data centers has accelerated. Specifically, new developments are beginning to take place in Illinois due to tax incentives. Data center providers and social media companies like Facebook are pushing forward with plans to add significant data center capacity, especially in Elk Grove Village, a suburb of Chicago, Illinois. While large companies can save approximately 15% on costs by outsourcing their data storage needs to specialists, many of those specialists are limited on capacity for the next year.

(Read)
Conditions Ripe For Tenants To Renegotiate Leases
As the COVID-19 pandemic hurt demand for office usage, rent in Chicago's Central Business District were already declining before the pandemic, partly due to the construction of many new office towers, especially in the West Loop and Fulton Market. After average effective rent reached $36.34 in Q1 of 2019, it sank to $34.05 by the end of the year, according to Compstak data in a Savills' market report. It sank even further when the pandemic hit, hitting $31 in Q3. While many landlords are reluctant to offer long-term rent discounts, new tenants are beginning to find offers with discounts ranging from 10-15% from rent. Michael Silver, a Chicago based real estate veteran, said that he is telling his clients to seek two months of free rent for each year of a new lease, as well as generous allowances for tenant improvements and significantly lower rents. If tenants are willing to be that aggressive, it could significantly fatten their bottom lines. "Taken together, it could mean a 20% to 30% discount from typical pre-COVID arrangements," he said.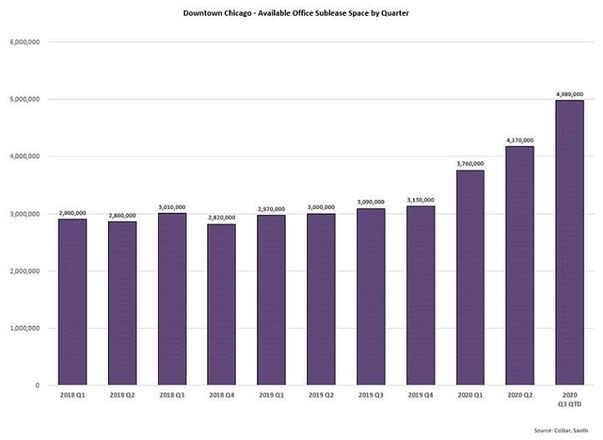 (Read)