Profimex Market Review Update – February 7, 2021
7.2.2021
Manhattan Office Prices Seen Falling as Much as 30% in a Year
According to Tom Shapiro, the chief investment officer at GTIS Partners, which oversees $4.5 billion in real estate investments, prices for office buildings in Manhattan may drop as much as 30% during 2021. In New York City, leasing activity has declined dramatically since the Covid-19 health crisis began. In January, the office availability rate in Manhattan rose to 14.9%, which is the highest rate since 2000, according to Colliers International. Additionally, the firm reported that rents fell to a record three-year low. Additionally, Shapiro explained that Landlords might face higher costs, such as taxes and capital expenditures for property improvements, making buildings less profitable. Furthermore, the pandemic has accelerated the demand for a greater degree of flexibility for Tenants, such as shorter lease terms. He explained that, "One of the things people loved office for is it had long-term cash-flow stability." Though low interest rates have helped this matter. Over the long-run, Shapiro believes that there will be a return to corporate offices, which are vital to corporate culture.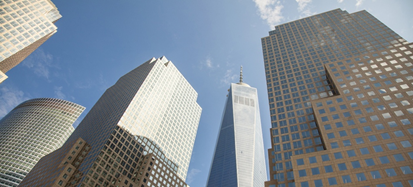 (Read)
Work-from-home isn't going away: Only 4% of CEOs plan to add office space
Fortune recently conducted a survey of over a 100 CEOs in the US between January 5 to January 13 about whether CEOs expected to need additional office space in the coming years. This was similar to a survey conducted by Fortune in September 2020. In the September survey, 76% explained that they would need less office space in the future. In the January survey, the results were roughly the same, standing at 75%. Meanwhile, only 4% of CEOs say their company will need more office space in the future. That figure was 6% in our September 2020 survey. If remote work were to outlast the pandemic, it would be a bad sign for the commercial real estate market, which is already suffering from mass closures as a result of the global health crisis – Covid-19.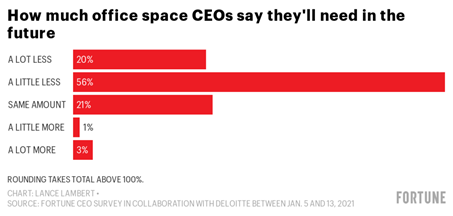 (Read)